Border to Border Trail Construction Updates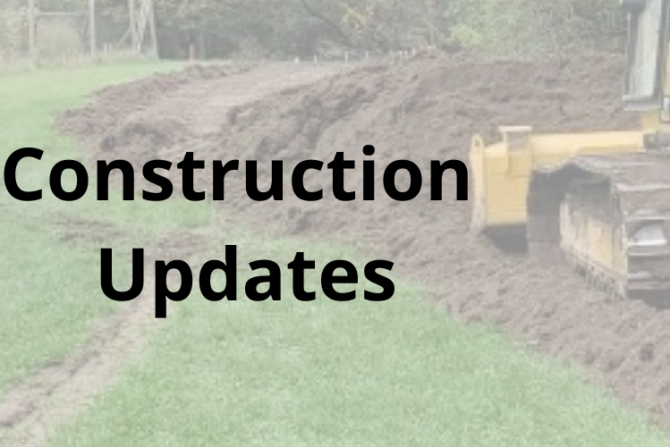 Trail progress continues at a rapid pace with multiple active construction projects across the county!
Chelsea-Stockbridge Connection
M52 toward Stockbridge
Vegetation removal is scheduled to begin on a new segment of trail along the east side of M-52 in Lyndon Township. This segment will add 1.6 miles beginning at M-52 and North Territorial extending to Boyce Road. Clearing will begin this March and trail construction will occur this summer/fall 2022. This project includes grading, paving of the trail, and tree planting and other related improvements. Construction is expected to be completed this fall!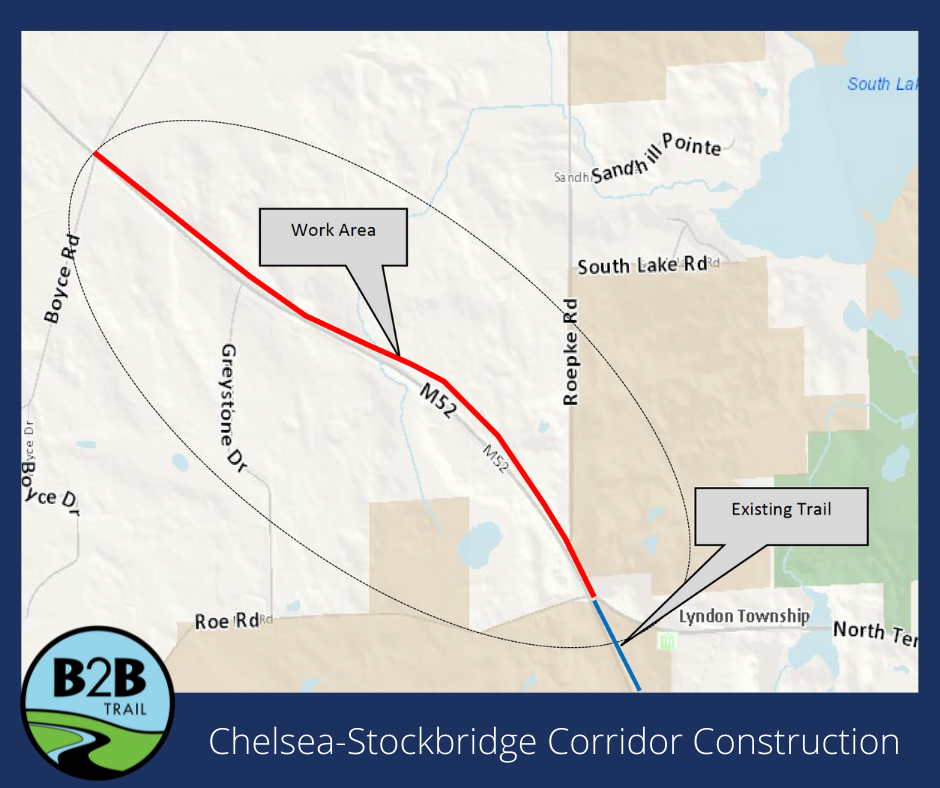 ---
Chelsea Connector
Supported by the recent MEDC Chelsea Connection Campaign, Phase B of construction on this 1.1 mile segment continues between Werkner Road to Timbertown and Veteran's Park. Forty percent of this project is built to date as we prepare to continue on the north side of M52 and build to Staffan-Mitchell Funeral Home's driveway following across the front.
A culvert replacement is still to be scheduled, which needs to be put in with a road closure. This is likely going to take place in late summer with an early fall completion. The culvert is located just North of the Staffan Mitchell funeral home.
This segment will complete the connection into downtown Chelsea and is anticipated to be complete this fall. This means that this section's completion will link the City with the two previous phases of construction to the north that end at the Trailhead totalling 6.3 miles of trail. This will be further extended with the North Territorial to Boyce segment pushing this beautiful trail corridor to a distance of 7.9 miles!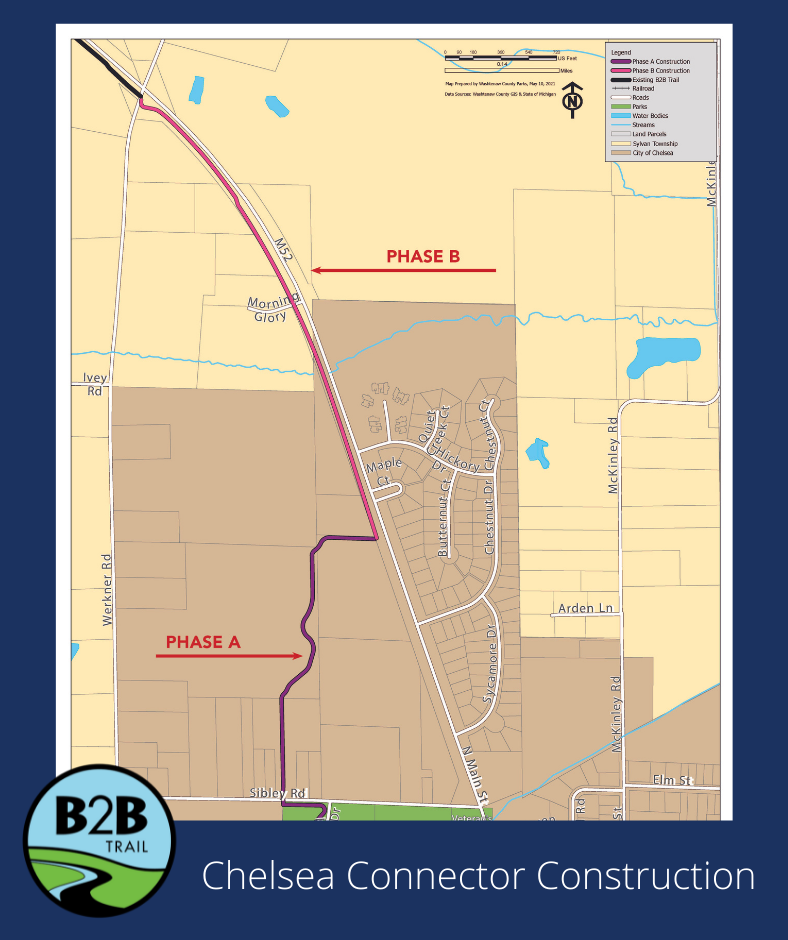 ---
Progress continues along Dexter-Chelsea Road! This section of trail will be a continuation of the segment that currently ends at Wylie Road in Dexter. Vegetation removal will begin this March for this project that will add about 0.6 miles of trail toward Parker Road. Trail construction will take place in the summer/fall of this year. The work includes grading, paving of the trail, and tree planting. Construction is expected to be completed this fall. As we work toward making the final connections between Dexter and Chelsea, parking will be challenging along this segment. Once the corridor is complete, there will be parking and safe public access. Until then, if you do park in this area, please do not use Beacon Hill Drive as it is a private road.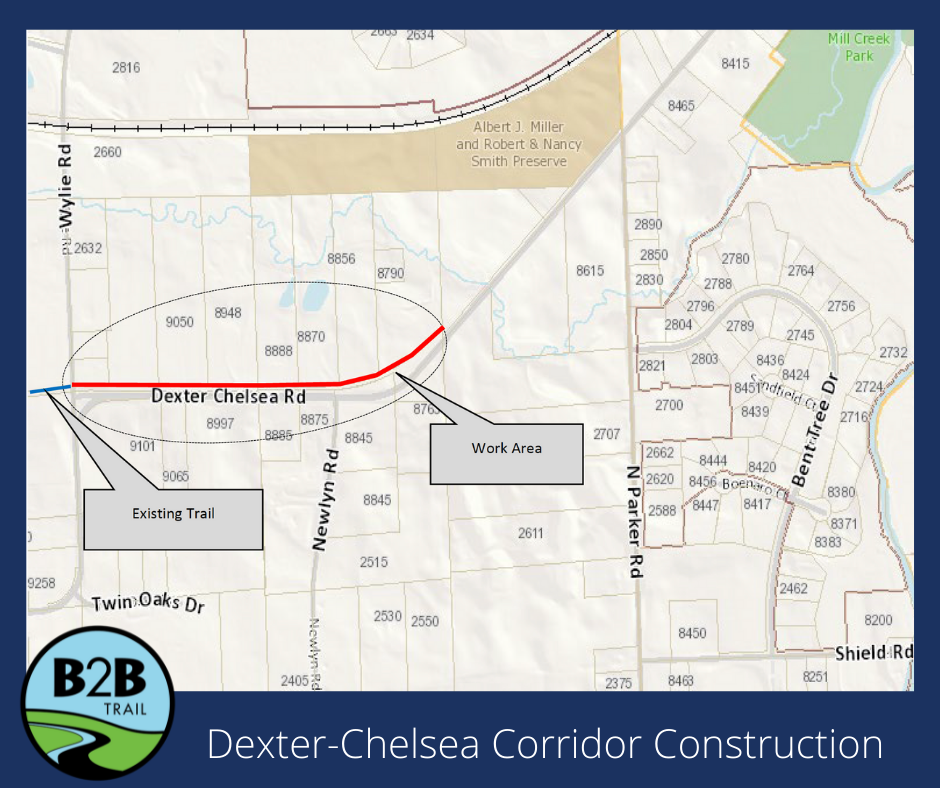 ---
Construction was initiated in the spring of 2021 on a one mile segment from Zeeb Road to Delhi Metropark with plans for the fourth B2B bridge over the Huron River. All project elements within local control were completed last March and the required permit approvals came through last May. A final letter of approval from Amtrak was needed prior to the project going out to bid, which is what caused the delays we saw in the past year.
We are excited to share that the necessary approval came through to move this project forward. Construction bids are being solicited and we anticipate the project to begin construction this summer! Phase Two of the Zeeb to Delhi project adds about a mile of trail extending from Zeeb Road to East Delhi Road. Not only will this project complete a total of 4.4 miles of continuous trail east of Dexter toward Ann Arbor, it will connect all three Metroparks within Washtenaw County!