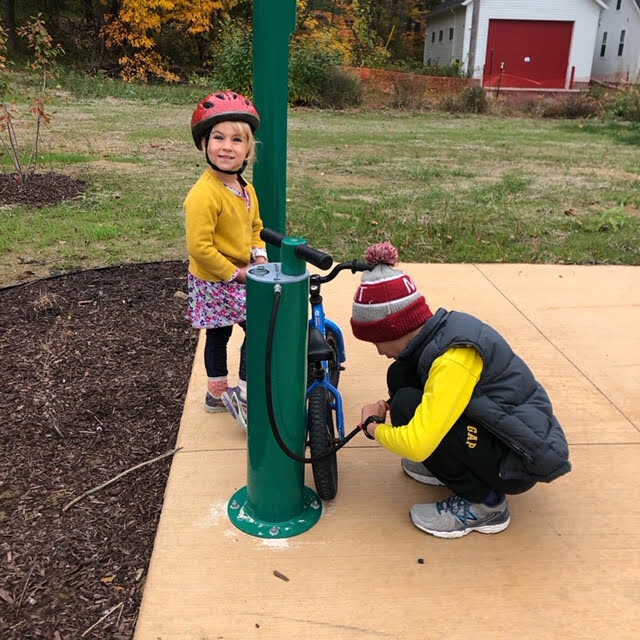 Trail Environment
Please be aware that you may encounter natural obstructions such as fallen branches, wet leaves, gravel or wildlife. If you encounter any major obstructions please bring them to our attention. Many portions of the B2B Trail are not maintained during the winter so please use caution on snow and ice.
Accessibility for All
The existing portions of the B2B Trail are ADA-compliant pathways to provide opportunities for everyone to experience our wonderful parks system and natural features. All pathways are wheelchair and mobility assistant device friendly and are designed with gentle slopes and stable surfaces. Pathways are typically paved 10-feet wide with 2-foot grass shoulders on each side. To cross wet areas, the trail typically uses sturdy boardwalks and bridges. Some portions of the B2B Trail in more developed urban spaces use a combination of sidewalks and bike lanes for short distances. Please review the trail pages and maps for the most up-to-date information along your planned route.  
Trail Surface
The trail surface typically consists of asphalt, concrete, or boardwalk. Boardwalks and bridges may be slippery when wet, please use caution.
Trail Etiquette
Be Kind on the B2B

Be kind to each other, and to nature, on the B2B Trail. Trail etiquette typically calls for staying to the right and passing on the left. Pedestrians have the right of way at all times. When passing, please indicate so by saying "on your left" or using a bicycle bell.

While bicycling, jogging/running, and rollerblading are welcome, we ask that reasonable speeds are maintained for the safety and enjoyment of others.
Pet Guidelines

Pets are welcome on the trail but must be under the owner's control at all times. Dogs must be kept on a leash, per state law, for their own protection as well as other users and wildlife. Please be prepared to clean up after your pet.
Stop at Road Crossings

Trail users must stop at all stop signs and yield to traffic at all intersections with public roads and driveway crossings. Please use caution when proceeding.