2020 Completed Construction
6 Segments / 5.06 miles / A Tunnel and Two Bridges / New Trailhead
Please see the overview map above for the numbered project locations indicated below.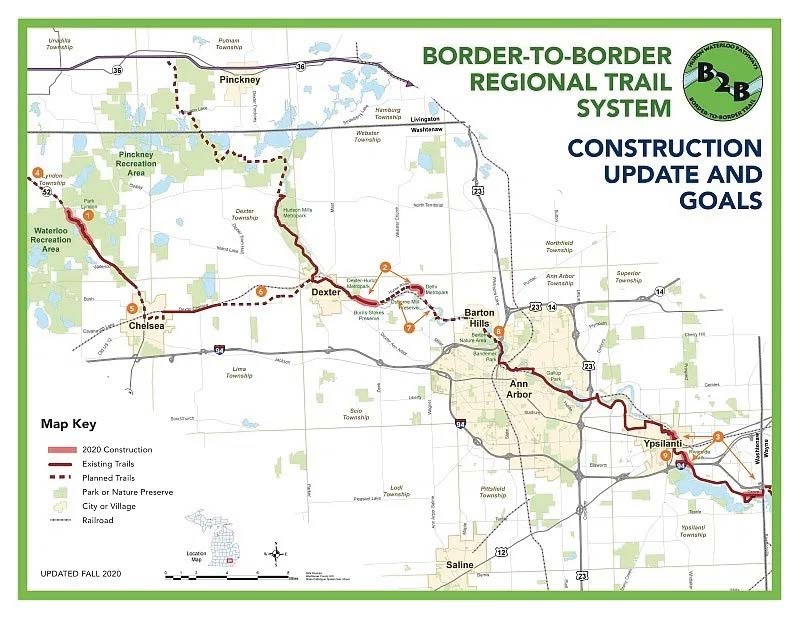 Chelsea-Stockbridge Corridor (1)
2.1 mile trail segment beginning at the Green Lake Campground, extending to North Territorial Road.
Dedicated B2B Trailhead near the intersection of North Territorial Road and M-52, adjacent to the Lyndon Township Hall. Includes 50 parking spaces, bathrooms, picnic tables and other amenities.
M-52 Tunnel located adjacent to Green Lake connecting the Waterloo and Pinckney Recreation areas.
Dexter- Ann Arbor Corridor (2)
Dexter-Huron Metropark to Zeeb Road, 1.1 mile segment which includes two new bridges over the Huron River.
0.8 mile segment traversing the Delhi Metropark along the Huron River.
Ypsilanti Corridor (3)
Frog Island Park, Forest Avenue to Cross Street, reconstruction of a 0.25 mile segment of the 30+ year-old trail along the Huron River.
Grove Road, Water Street trail to I-94, replacement of 0.45 miles of an old narrow sidewalk with a 8-10' wide concrete pathway.
Grove Road, North Hydro Park to Wayne County Border, includes two construction segments in the same area totaling 0.36 miles, connecting North Hydro Park to neighborhoods, Grove Road, and Rawsonville Elementary School.
2021/2022 Trail Development Goals
Chelsea – Stockbridge Connection (4)
3.0 mile segment from North Territorial to the Jackson County border.
Chelsea Connection (5)
1.1 mile segment from Werkner Road to Timbertown and Veteran's Park, completing the connection into Chelsea.
Dexter – Chelsea Connection (6)
Extension of the current trail along Dexter-Chelsea Road.
Dexter-Ann Arbor Connection (7)
1 mile segment from Zeeb Road to Delhi Metropark, including the 4th B2B bridge over the Huron River.
1.1 mile segment connecting Delhi Metropark to Wagner Road including the 5th B2B Bridge. Final design, permitting and funding activities.
Ann Arbor (8)
0.6 mile segment traversing the Barton Nature Area in Ann Arbor which will connect to the future Bandemer Park Tunnel, linking to the Barton Nature Area.
Bandemer Park Tunnel, continued construction engineering, permitting and fundraising for this effort.
Ypsilanti (9)
Riverside Park, 0.5 mile segment reconstruction of this 30+ year-old trail with an 8-10' wide trail.
Grove Road, I-94 overpass improvements. Final design and permitting.