CONSTRUCTION OVERVIEW
CHELSEA-STOCKBRIDGE CORRIDOR
M52 Toward Stockbridge
Construction has begun on a new segment of trail along the east side of M-52 in Lyndon Township. This segment will add 1.6 miles beginning at M-52 and North Territorial extending to Boyce Road. This project includes grading, paving the trail, and tree planting and improvements to existing trail south of the trailhead near the DTE Trail connection.
In 2023/2024, we hope to see work begin on an additional 1.6-mile trail segment extending from Boyce Road to the Jackson county line.
Chelsea Connection
Supported by the MEDC Chelsea Connection Campaign, Phase B of construction on this 1.1 mile segment is open between Werkner Road and Timbertown/Veteran's Park. Community celebration event to be announced Spring 2023.
There is a short unfinished gap that remains on the trail due to the pending replacement of the culvert under M-52, which is in poor condition. The culvert is located just North of the Staffan Mitchell funeral home.
The culvert replacement work is being managed by MDOT and Washtenaw County Water Resources Commissioner's Office and will be completed in the summer of 2023.
This segment completes the connection into downtown Chelsea. This means that it links the City with the two previous phases of construction to the north that end at the Trailhead totaling 6.3 miles of trail. This will be further extended next year with the North Territorial to Boyce Road segment pushing this beautiful trail corridor to a distance of 7.9 miles!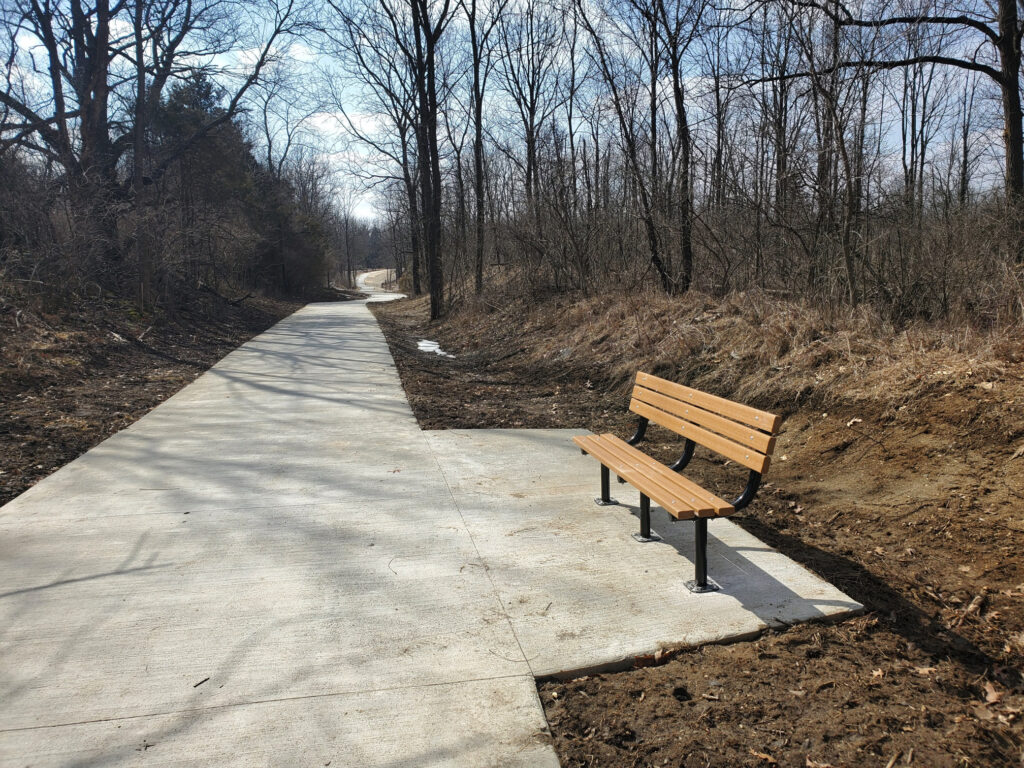 DEXTER-CHELSEA CORRIDOR
Progress continues along Dexter-Chelsea Road! Landscaping is scheduled for this fall on the recently completed trail segment east of Wylie Road. In 2023, we will see the start of construction on a 0.7 mile trail segment that will complete the remaining distance from Wylie to Parker Road.
Looking ahead to 2024, the City of Dexter is exploring pathway options for the 0.8 mile trail segment that will make the final connection into downtown Dexter. One plan is to use the historical Bell Road Bridge to cross Mill Creek as it connects to the trail near Forest Lawn Cemetery. This bridge is a 105-foot wrought iron bridge that was constructed in 1891.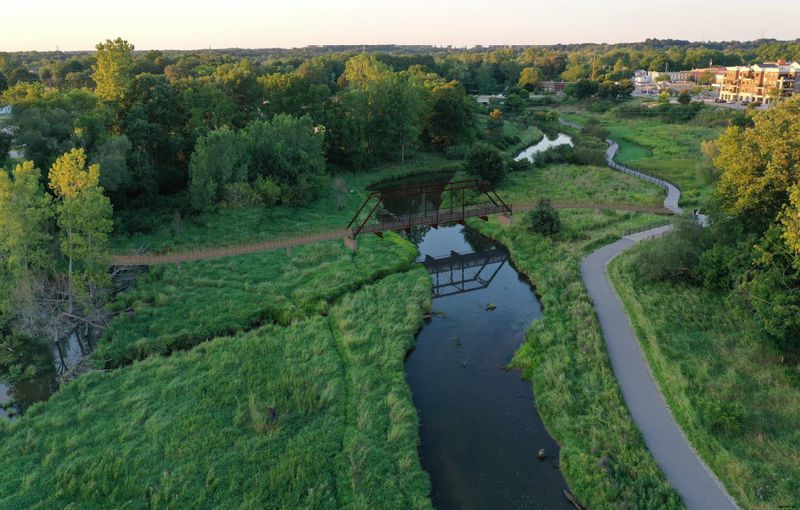 As we work toward making the final connections between Dexter and Chelsea, parking will be challenging along this segment. Once the corridor is complete, there will be parking and safe public access. Until then, if you do park in this area, please do not use Beacon Hill Drive as it is a private road.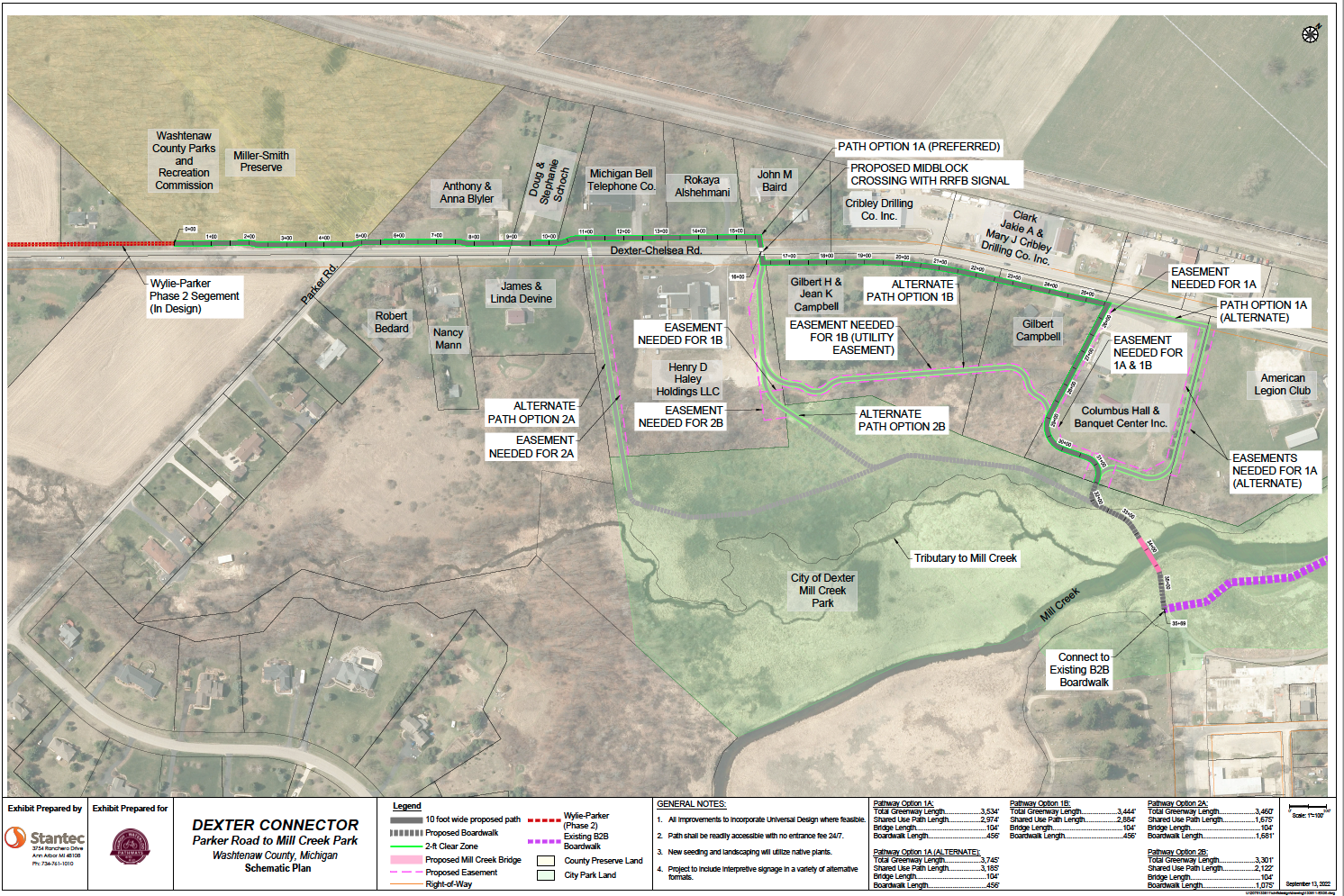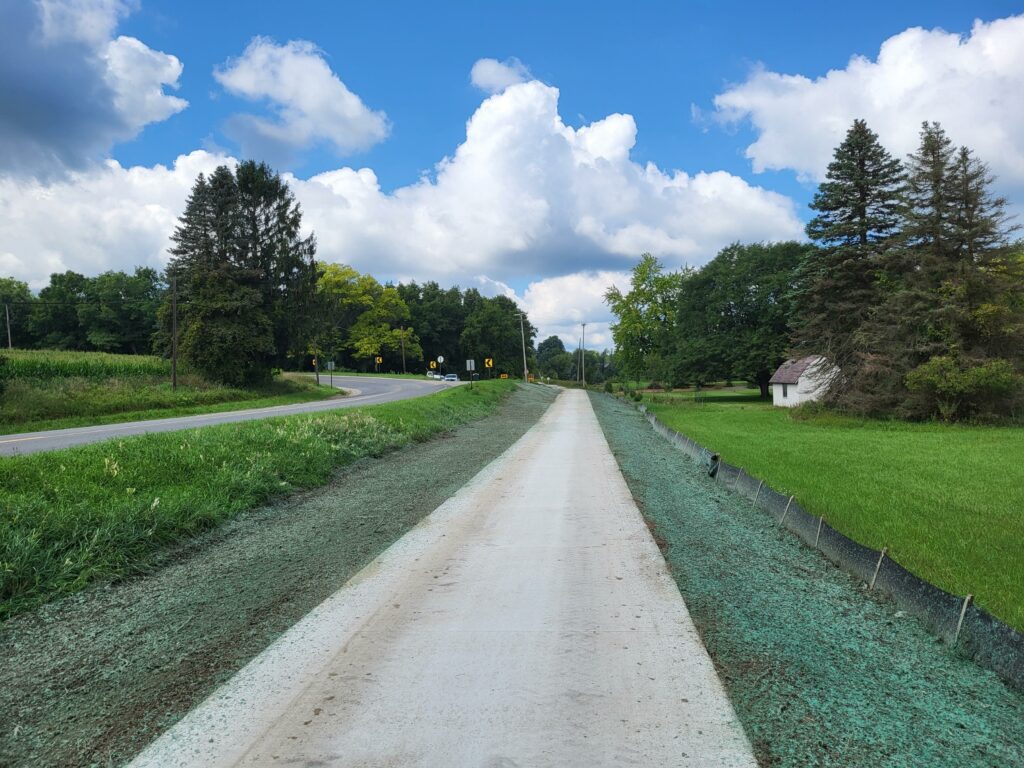 HUDSON MILLS METROPARK CORRIDOR
Updates will be reported here as trail progress continues.
ANN ARBOR-DEXTER CORRIDOR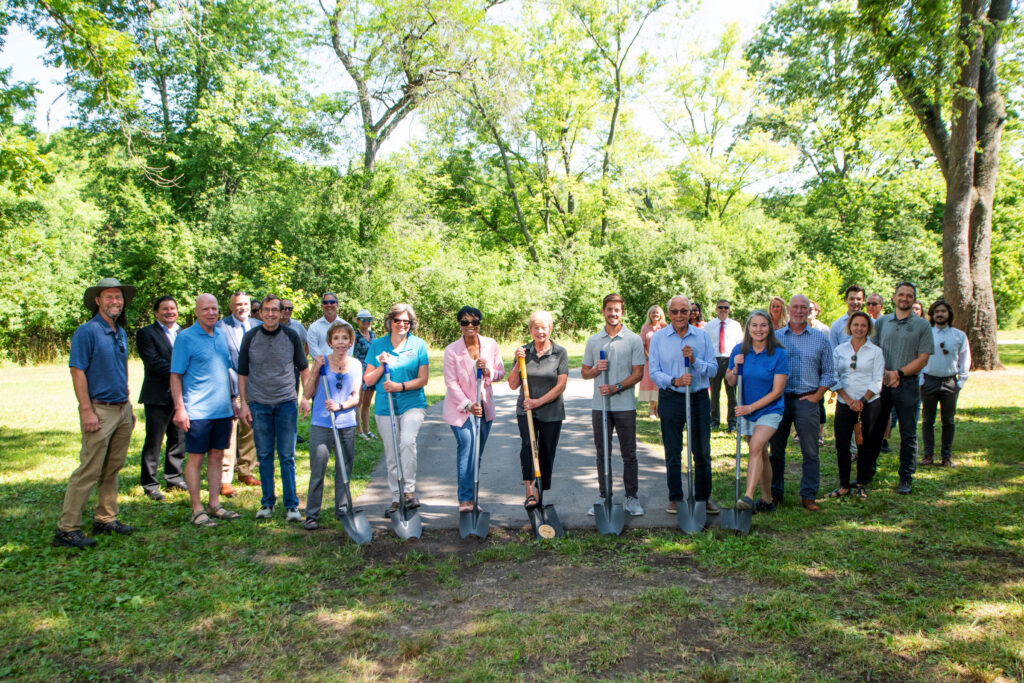 Update: A groundbreaking ceremony was held on July 14th at Delhi Metropark for the much-anticipated Zeeb Road to Delhi Metropark segment of the Border to Trail! Read more here.
Construction on Phase II of the Zeeb to Delhi trail segment has begun! This project adds 1.3 miles of trail extending from Zeeb Road to East Delhi Road and includes the fourth B2B Trail bridge over the Huron River. As of November 11, we see great progress on the retaining walls along this segment!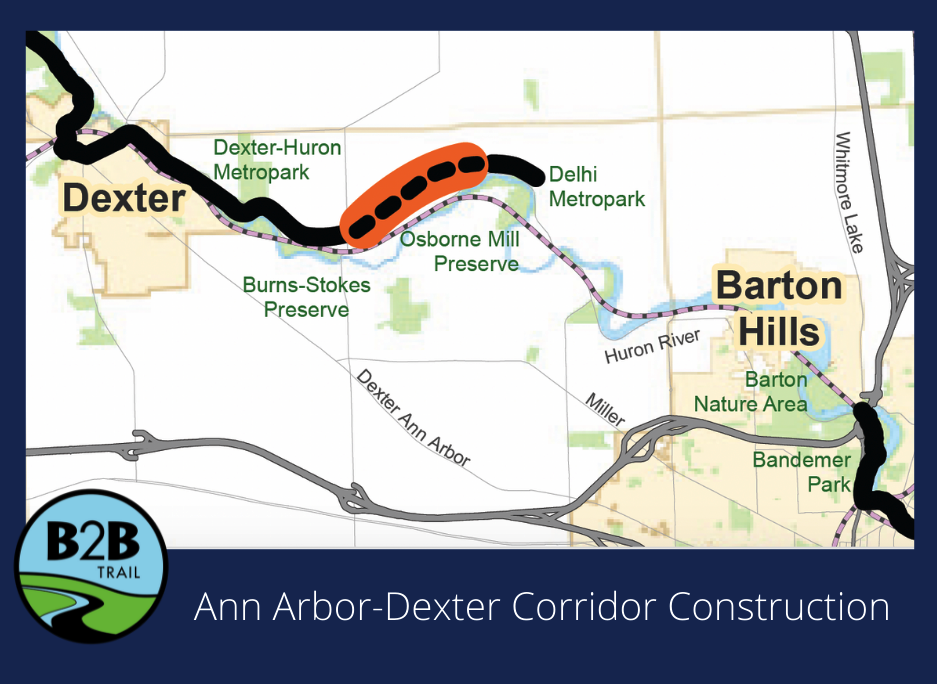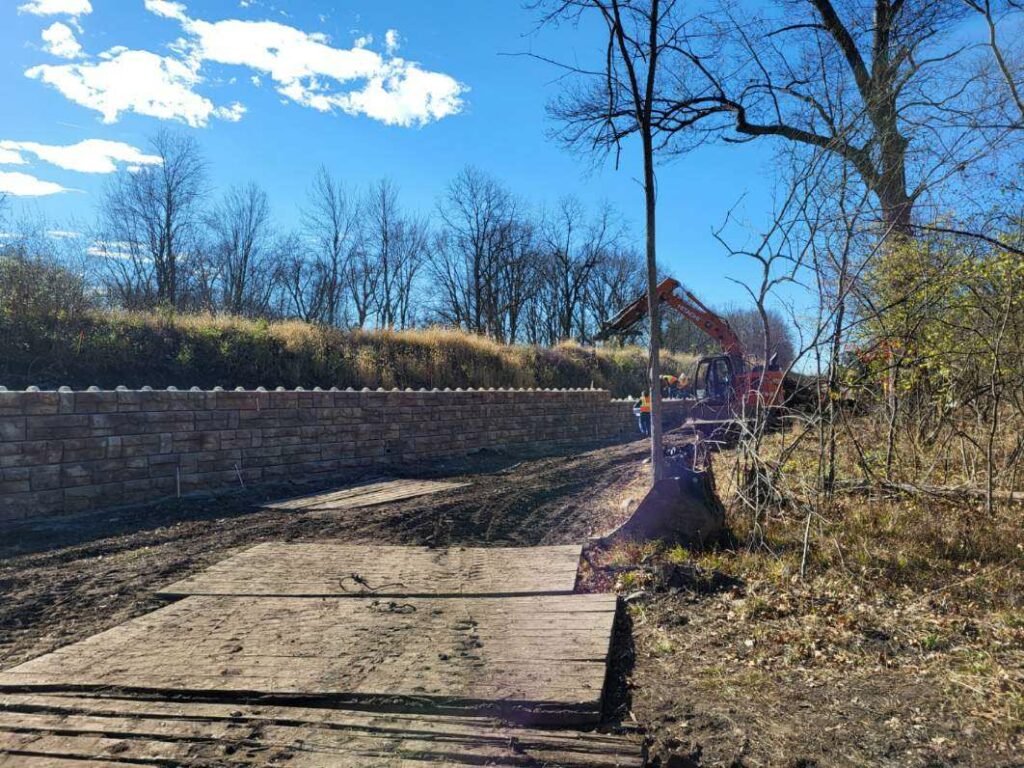 Not only will this project complete a total of 4.6 miles of continuous trail east of Dexter toward Ann Arbor, it will connect all three Metroparks within Washtenaw County!
Looking ahead, plans to begin a 1-mile trail segment from Delhi Metropark to Wagner road is projected for 2023/2024.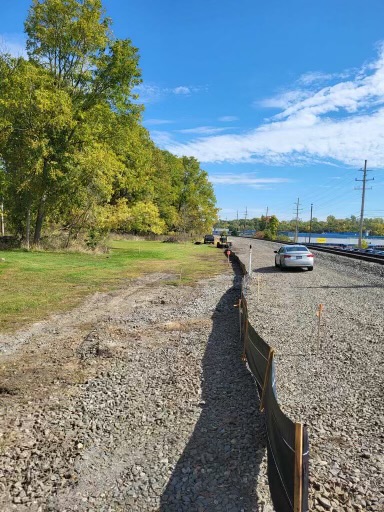 ANN ARBOR CORRIDOR
Looking ahead, construction is planned in 2023/2024 on a 0.8 Mile segment that will cross the Barton Nature Area and include construction of the Bandemer Tunnel which will pass under the railroad line.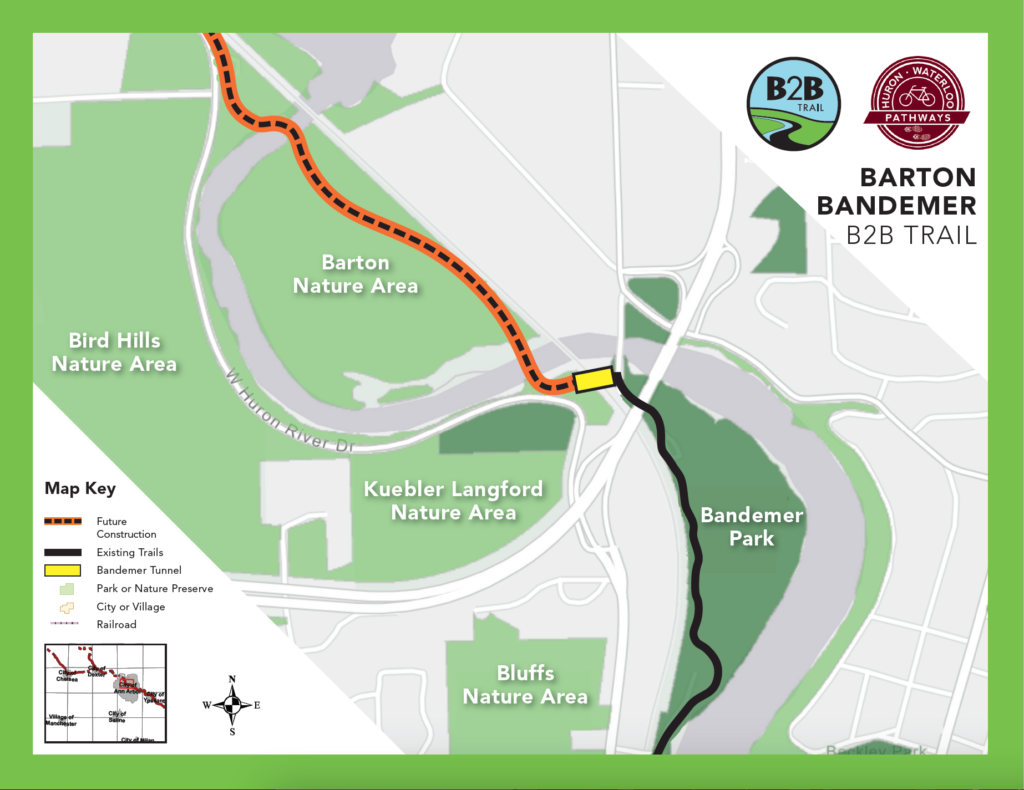 YPSILANTI CORRIDOR
Updates will be reported here as trail progress continues.
B2B TRAIL WAYFINDING
To improve the usability of the trails for residents and visitors, WCPARC is developing a series of wayfinding signs and structures to be installed across the Border to Border Trail system. Installations are planned to roll out in 2023 and continue over the next couple of seasons. Features will include:
Primary orientation nodes will be installed at large parking access points with supporting trail amenities where people will be encouraged to park as primary access points. These structures will help to encourage sitting/resting, viewing, and further exploring before heading out on the trail. Content that will go on the primary orientation nodes will include local and regional trail maps, emergency contact information and trail etiquette guides.
Secondary nodes – Map stations placed at highly visible spots at small parking access points, local access points, and intersecting trails.
Directional signage will include a linear trail map with mile markers and miles to the next major destination point with amenity notes.
Blazes will be used frequently on free standing posts or attached to an existing post.
Pavement markings will be used on the ground frequently where there is a turn or a choice to be made that could potentially cause users to leave the trail.