Beyond the Borders of the B2B Trail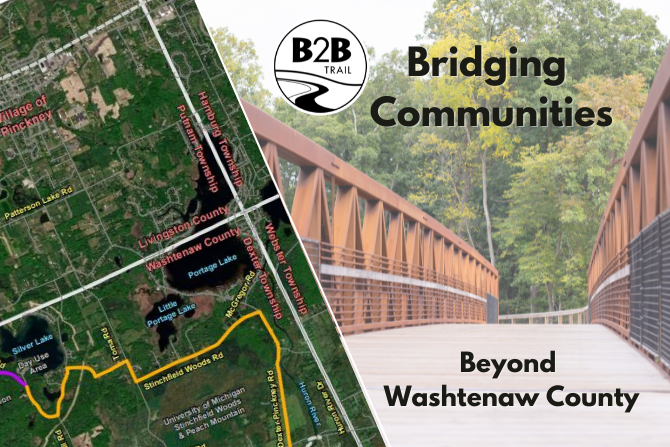 At their most basic level, trails connect people to places, and connect one place to another. They bridge communities and bring people of all abilities, ages, and backgrounds together.
While the goal of the Border To Border Trail has been, and continues to be, linking the communities within Washtenaw County – quite literally from the western border to the eastern border, and everywhere in between – we also envision a larger trail system where regional connectivity through non motorized pathways becomes a natural part of the southeast Michigan way of life. In our eyes, borders should be seen as bridges to people and places, not barriers.
Therefore, in recent months, the Huron Waterloo Pathways Initiative (HWPI) and Washtenaw County Parks and Recreation Commission (WCPARC) – the public-private partnership behind the B2B Trail – have been working with neighboring communities both within and outside Washtenaw County to connect the B2B Trail to surrounding trail networks with a goal of increasing trail access for more people, and especially those that would otherwise lack safe and easy access to trails. We currently have three examples of trail connection partnerships in various stages of development.
The Northwest Passage Trail connects directly into the B2B Trail in Dexter, and extends north through the Hudson Mills Metropark, with a goal to expand through Stinchfield Woods and into Pinckney. This in-county trail has been in the planning stages for a number of years, and was originally within the path of the B2B Trail itself. We are excited to move this project forward with support in the form of fundraising, design, and engineering.
The Van Buren Township Trail is our first connection into Wayne County. The planned trail connects to the easternmost edge of the B2B Trail in Ypsilanti Township in Washtenaw County, and extends into Van Buren Park, through the city of Belleville, and eventually into the Lower Huron Metropark. This project will be operated and owned by Van Buren Township and Wayne County, but with significant consultation and partnership from HWPI and WCPARC. 
Lastly, our B2B Trail partners are working with both Jackson and Ingham Counties to extend the B2B Trail into the Stockbridge Trailhead of the Mike Levine Lakeland Trail – a 34-mile non-motorized trail that stretches from South Haven to Port Huron. When combined with the completed B2B Trail, this exciting connection will offer trail users miles of continuous trail that is near unparalleled in our corner of the state.
To be sure, goal number one for all of us involved in the B2B Trail project is to complete the 55-mile county-wide trail in the coming years. Yet, as this project continues to move forward and closer to completion, we are excited to be able to work with partner agencies and surrounding counties to help create a truly world-class regional trail system that knows no borders.
To learn more about nearby and connecting trails follow the link.