Birds of a Feather Bike Together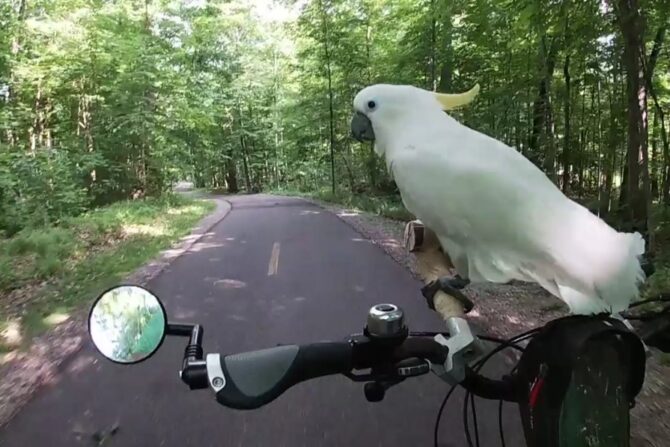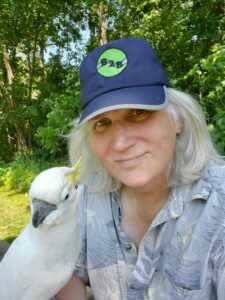 We all know that pets are welcome on the Border to Border Trail. Any given day, dogs of every shape and size are found on the trail, but have you seen a cockatoo on a bike? If you travel the B2B Trail in Dexter, you likely will. Scio Township resident, TC Leadholm, and their cockatoo, Max, have been bringing unexpected smiles to their trail pals on the B2B for years.
An avid biker for 30+ years, TC has fond memories of taking their young kids for rides in a bike trailer around Dexter in the late 80's and early 90's. "It was fun but not the safest place to ride and after discovering Hudson Mills Metro Park and its bike path I became a regular there. The trail was beautiful, the park staff friendly, and it quickly became my favorite place to spend family time." Fast forward 30 years and they still love to ride, although these days TC's kids are grown and living on their own.
This is where Max enters the picture. "My passion for birds started as a young teen and grew over the years," explains TC. "Over time, my feathered family expanded to nine birds of various types and sizes. One of my cockatoos, Max, loves to be a part of every aspect of my life and is very sociable. He entered my life 13 years ago after his first companion passed away. I see my life with Max as just the current chapter in his life. He is now 24 and since cockatoos can live a human lifespan, he will likely have several new chapters in his life. My goal has been to make this chapter as exciting as I can and to keep him socialized with humans so the transition to each new chapter will go smoothly."
To that end, 13 years ago TC began taking Max on bike rides at Hudson Mills, and subsequently the B2B Trails. "Initially, bringing Max along for rides was simply a way to keep me motivated to get some exercise and to give my feathered friend some fresh air. It didn't take long, however, to realize that Max had a unique way of making every ride an adventure and an opportunity to brighten the world a little. We often stop and chat with other trail users and we have made many 'trail pals' over the years and some Max and I consider family. Hopefully, Max and I will continue our trail adventures on the B2B for many years to come!"
TC describes the Border to Border Trail as more than just a network of paved trails connecting cities across Washtenaw County. "To me, it's a conduit that connects lives, memories, and friends (both new and old!) Every ride Max and I have taken has been an adventure that has us both feeling lucky to be part of such a beautiful, welcoming and diverse community. We have made lots of new acquaintances and I have even run across long forgotten colleagues that I haven't seen in more than 25 years! What time and life separated, the B2B somehow managed to bring together. How cool is that?!"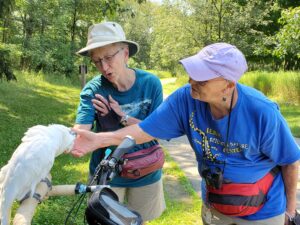 TC shares a favorite story from their time on the Border to Border Trail. "You've made my day!" I've literally never heard anyone say that to me until Max and I started spending time on the B2B Trail where we stop to chat with fellow trail users. Max loves meeting new people and when someone expresses an interest in holding him, he eagerly climbs onto their arms and often gives them a hug and sometimes starts chatting with them. The look on their faces is priceless and the encounter often ends with, "You've made my day!". Hearing that makes MY day!"
With cooler weather coming, most of TC's rides will be solo until next Spring. We all look forward to seeing them together next year bringing smiles and a few feathers to the Border to Border Trail!