New Pathways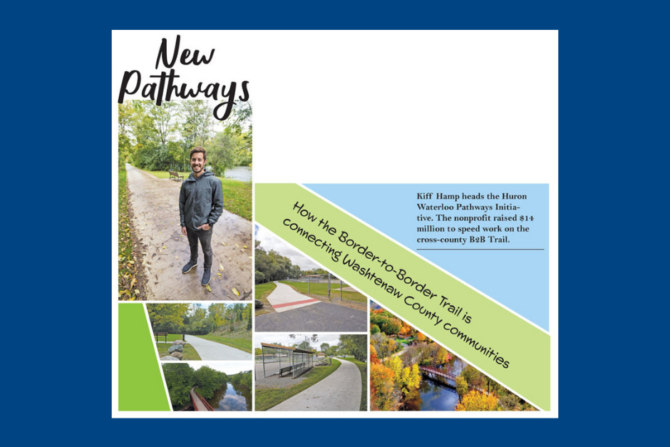 by Brooke Marshall ~~~~~
If you stand on the corner of Freer and Dexter-Chelsea roads, at the northwest edge of the Oak Grove East Cemetery, you'll find yourself at a 2.1-mile section of the Border-to-Border Trail. Nearer to Chelsea, there's an open-air art gallery of self-portraits painted on wooden planks by area middle school students. Follow the trail through farmland dotted with wildflowers, and near the eastern terminus you'll pass the "Lost Pyramids of Dexter," a tongue-in-cheek name for the foundations of an old water tower that were found during trail construction. The trail ends as abruptly as it begins—ironically, just short of the entrance to Abrasive Finishing.
Just a random segment of a bike path, unlinked to any particular destination. But last year, that random segment was only 1.5 miles long. Next year, it will grow by another 0.6 miles to Parker Rd., and if all goes according to plan, in 2024 you'll be able to use that bike path to travel from Chelsea to Dexter by two wheels or two feet.
The Border-to-Border Trail (B2B) is an ambitious project decades in the making. When it's complete, the paved, ADA-accessible, ten-foot-wide nonmotorized path will go fifty-five continuous miles across Washtenaw County from its borders with Wayne and Livingston counties. It currently exists as six disconnected trail corridors, 37.75 miles in all, in and around Ypsilanti, Ann Arbor, Dexter, and Chelsea.
But the B2B is more than just a bike path. It's part of a larger series of initiatives to link southeast Michigan—and maybe one day, the entire state—via nonmotorized transportation infrastructure.
That 0.6-mile extension of the Dexter-Chelsea Rd. trail segment is just one of several B2B projects in the Chelsea and Dexter areas this year. The Washtenaw County Parks and Recreation Commission (WCPARC) is embarking on a multiyear project to update trail signage—the first update since 2008. This project will include signage directing riders through Chelsea.
"In the cities, it's pretty challenging to build a trail, because the homes are really close to the road, and no one wants a ten-foot trail in their front yard," says WCPARC Project Manager Roy Townsend.
Signage gives riders the freedom tohop off the route and choose their own adventure—visit shops and restaurants,explore neighborhoods, and eventually link back up with the trail.
Farther east, construction is slated to begin in October on a 1.1-mile segment from Zeeb Rd. to Delhi Metropark along Huron River Dr. This much-anticipated section, delayed for months because of difficulties securing a permit from Amtrak, will complete the connection between all three Metroparks within Washtenaw County. Construction should finish next summer.
"We're so close to starting to move dirt on that project," says WCPARC project manager Peter Sanderson. "That's a project that's been in the works for more than three years, from engineering through permitting and now into construction. So that's an exciting one."
Groundbreaking is also set to begin on the Title IX Plaza in Dexter-Huron Metropark. 2022 marks the fiftieth anniversary of the enactment of Title IX of the Education Amendments, which prohibits discrimination on the basis of sex in educational and athletic programs that receive federal funding. The Title IX Plaza will honor female athletes of Washtenaw County and one in particular: Karen McKeachie, a world-class triathlete who was struck and killed by a truck while riding her bicycle on Dexter-Chelsea Rd. in 2017.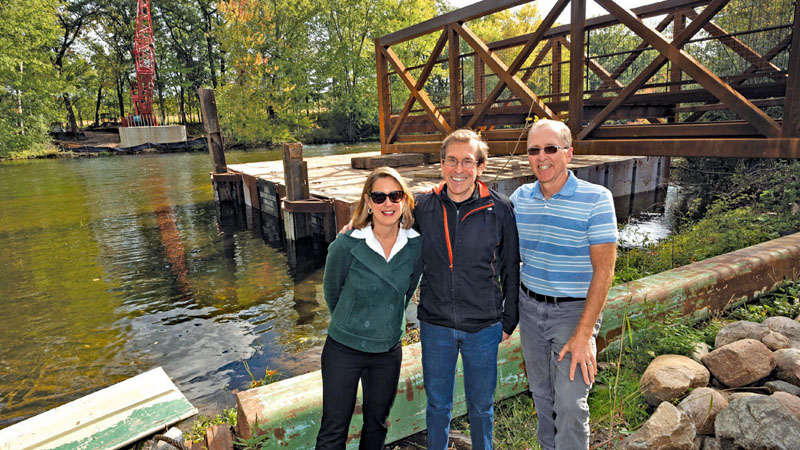 A mile here, 0.6 miles there, floating sections of trail—the approach may seem somewhat piecemeal. But such is the nature of building a bike path; there's a lot more to it than just laying pavement.
"The physical trail construction is not overly complicated," Sanderson says. "But getting it to that stage and aligning all the parts and pieces is typically a multiyear process, and I don't think a lot of people know that."
Trail planning is a nuanced negotiation between aesthetics, environmental concerns, cost, land ownership, and public, private, and government entities. For that reason, trail projects tend to progress at a snail's pace. But momentum is what keeps people interested, which translates to more funding opportunities and can put pressure on slow-moving bureaucratic processes. So, if you have the opportunity to build a 0.6-mile section of trail, you take it. The philosophy, according to Huron Waterloo Pathways Initiative (HWPI) executive director Kiff Hamp, is this: "Build as much trail as you can as fast as you can."
As the official nonprofit partner of the B2B, HWPI's mission is to help create more nonmotorized pathways in Washtenaw County and beyond. This public-private partnership is what enables B2B construction to progress so quickly, even if it's in segments.
In 1984, Washtenaw County officials hatched the idea of the Huron River Greenway, a nonmotorized pathway hugging the Huron River. In the 1990s, this evolved into the Border-to-Border Trail: a collaborative effort between universities, hospitals, WCPARC, and local governments to connect park systems and the cities of Ypsilanti, Ann Arbor, and eventually Dexter and Chelsea.
The vision was expansive, but progress was slow. With a budget of $500,000 to $1 million a year from the county's parks millage, it took several years to build up enough to fund a single project. At that rate, it could take decades and decades to complete—or never be completed at all.
HWPI changed all that. In 2014, a group of avid cyclists in Chelsea, led by local businessman Jeff Hardcastle, met to brainstorm ways to bring more bike infrastructure to their town. By 2015, they had already accrued more than $50,000 in private donations. When they began researching state funding, they learned they'd get more support if they expanded regionally. This led them to WCPARC.
"We were pursuing our Border-to-Border Trail initiatives independently, and when we first met with Jeff Hardcastle and the HWPI team, it became clear very quickly that we should collaborate," Sanderson says.
In 2017, the county and the nonprofit signed a memorandum of understanding to collaborate on the B2B. HWPI handles private fundraising, as well as coordinating between different private, business, civic, and governmental entities. Since it was founded, HWPI has raised more than $14 million. Two of the largest grants came from the Ralph C. Wilson, Jr. Foundation ($3.25 million in 2018 and $3.5 million in 2022), but the rest came from more than 2,600 individual donors, with gifts ranging from a few dollars to $1 million.
Before HWPI, "we averaged about one mile of construction per year," Sanderson says. "And now over the past four years we've built 13.7 miles of new trail, and we've reconstructed about two-and-a-half miles of new trail, so that's 16.2 miles in four years … We're doing something like three projects per year, maybe four, depending on the year."
Funding is split three ways between HWPI's private donations, state and federal grants, and a portion of the county's road and trails millage. McKeachie and her husband, Lew Kidder, were instrumental in the initial passage of the millage in 2016, and voters renewed it for four years in 2020.
One mile of trail costs roughly $1 million, and bridges crossing the Huron River also come with a $1 million price tag (although, like everything else these days, those numbers are rising). Estimates for the finished trail, including funds for long-term maintenance, run between $35 and $47 million.
The coming years promise more bicycle infrastructure projects for the communities of Dexter, Chelsea, and Saline—both on and off the B2B. In 2024, Dexter will see the return of the Bell Road Bridge. The historic bridge over the Huron was removed in 1997 because the abutments were crumbling. It is currently in storage, but Townsend said the goal is to install it as part of the B2B crossing Mill Creek in Dexter.
Meanwhile, the city of Chelsea is just 1.1 miles away from being fully connected to the westernmost segment of the B2B. WCPARC was slated to begin construction between Werkner Rd. and Veterans Park this year, but a damaged 200-foot section of culvert has stalled the project. Once the Michigan Department of Transportation replaces the culvert, the B2B project can resume. The revised completion date is summer 2023.
2023 will also see groundbreaking on a 1.6-mile segment of trail along M-52 from North Territorial to Boyce Rd. along M-52 in Lyndon Township. When those two segments of trail are complete, Chelsea residents will have access to nearly ten continuous miles of the B2B.
Although the B2B doesn't run directly to Saline, residents can connect to it via other bicycle infrastructure. The Lohr-Textile Greenway connects to the Platt Road Trail, which eventually leads to the Huron Parkway Trail, and then up to the B2B in Ann Arbor's Gallup Park. The only portion that isn't linked by bicycle infrastructure is the section of Platt Rd. between Packard and Huron Parkway. However, Townsend says that when that section of Platt Rd. is resurfaced, there are plans to add bike lanes.
Before HWPI, "we averaged about one mile of construction per year," says county parks planner Peter Sanderson. "And now over the past four years we've built 13.7 miles of new trail.
The coming years—and decades— may see even wider connections. "We want to be a part of larger trail connectivity," Hamp says. "That's one of the huge goals that we have long-term."
He explains that HWPI is in talks with Jackson and Ingham counties about linking the B2B to the Mike Levine Lakelands Trail in Stockbridge. The thirty-four-mile trail connects Hamburg Township in Livingston County to Blackman Township in Jackson County and is part of the prospective Great Lake–to-Lake Trails Route #1, a 275-mile shared-use trail stretching from Lake Michigan to Lake Huron.
There are also plans to connect to the Lakelands Trail in Pinckney. HWPI and WCPARC are working with Dexter Township to try to extend the trail, sometimes called the Northwest Passage, up to Peach Mountain and Stinchfield Woods, to Silver Lake, through Hell, and up to the Pinckney Lakelands Trailhead.
Farther to the east, Van Buren Township and Wayne County are breaking ground on a one-mile section of trail connecting the B2B to the Van Buren Township Trail in Wayne County. It will ultimately run for seven miles and connect the B2B to Lower Huron Metropark.
"We're very excited about getting this Van Buren piece because that goes into Lower Huron, which you could connect down to Lake Erie," Hamp says.
As of 2015, the B2B is also part of the Iron Belle Trail. The highly ambitious plan is to connect Belle Isle in Detroit to Ironwood in the Upper Peninsula via two separate routes: a 1,273-mile unpaved hiking trail and a 791-mile paved bicycle route.
The strategy behind the Iron Belle is the same as the B2B: link existing paths to create an expansive, unified whole. The bicycle portion of the Iron Belle is already 71 percent complete; when the rest is built, it will be the longest state-designated bicycle trail in the United States. When that might be, however, is anyone's guess.
"Unfortunately, it is not feasible to give an estimate for when the entire route may be connected," emails Dakota Hewlett, the Iron Belle Trail Coordinator for the Michigan Department of Natural Resources. "It will be many years yet before the entire route may be connected fully."
The B2B has run into countless snags building what will eventually be a fifty-five-mile bike path within a single county. Zoom that out to a project attempting to link forty-eight counties and 240 townships, and the complexity is dizzying. How do you build those remaining 229 miles? One mile at a time—or, in the case of the extension of the Dexter-Chelsea segment of the B2B, 0.6 miles at a time.
Because the B2B is a part of the Iron Belle Trail, construction on the B2B ultimately contributes to statewide nonmotorized connectivity. And the completion date for the B2B is significantly easier to estimate than the Iron Belle.
"I think our goal would probably be in the next five years, but as things become complicated, that could get pushed out to six or seven years," Townsend says.
The years ahead may see more complications because, as Sanderson explains, "Frankly, the easiest sections to build have already been built."
Probably the single most challenging mile of B2B construction is between Maple Rd. and Wagner Rd. along Huron River Dr. There are no shoulders on either side of the road, the terrain is hilly, and any construction involving the Huron River involves a barrage of environmental regulations. HWPI and WCPARC are currently workshopping potential solutions; changing Huron River Dr. to a one-way road is one option, and another is constructing two massive suspension bridges. Hamp estimates that it could cost between $10 and $12 million and take up to three years just to build that one mile.
"There's so many things out of your hands," Hamp laughs. "I would say by '25, '26, ideally we would have everything done except [that] one mile."
The persistence with which HWPI and WCPARC address these challenges attests to the importance of nonmotorized transportation infrastructure. The B2B is more than just a bike path. It's a means of connecting its users with their county, with pieces of their history, and with one another.
"If we connect where people live to destinations, it gives them reasons to use the trail and maybe not drive everywhere, which is good for the environment, it's good for their health, it's good for their mental health," Sanderson says. "It helps build community, because you see other people on the trail as members of your community. You see them as people, and not as a car."
This article was reprinted with permission from the publisher.
Photos by Mark Bialek except lower left and right in first image, courtesy HWPI
Link to the original Ann Arbor Observer article